For the last year or so i have been volunteering at Milton Keynes Gallery with the young peoples project to help get the youth of MK involved with Art. That means people that wouldn't necesserally get involved with art in the first place 'Hard to reach people'. This weekend (The weekend just gone) the youth group was involved in a festival in Campbell park, MK4U, we spent in excess of 5k!
The festival went really well. On the Saturday we got grafitti artists to paint the inside of our marquee on some canvas that we used to create atmosphere on the second day when we had bands playing. The first day went well when it was light but when it got to later on in the event the tent was dead! Overall i would rate the Sunday to be the most successful day that we had at the festival....so here is a couple of pictures!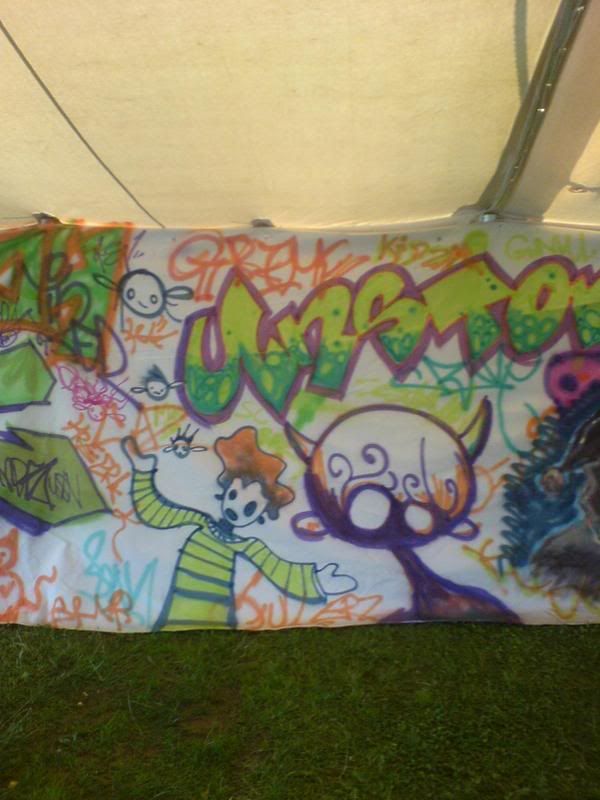 (Some of the Graffiti inside the tent)
(The sun hanging low, late saturday evening)
The rest of the pictures, especially on the sunday, i took on my holga so i will have to show you some of those later, or you can check them out on my Lomo Profile which i should be setting up over the next few days considering i have so much free time on my hands! I really liked the event because it gave me a chance to practice working with other people, experience what it is like to run/co-run a stage event and stay out in the great weather all day! Although next year i will just be a visitor and so stress wont be a factor, i suppose that will be a good idea.
Today i had to get up at 8am, which was really tough considering i was up till 10:30 on sunday cleaning up the marquee and etc, to take down my exhibition and later on in the day i got my grades for said project. I didn't feel anything untill me and my friend Cherry went to the college to pick up the grades, then i started to feel a little bit nervous....i mean i knew that i only had to pass but part of me wanted to get at least two merits and thankfully I DID! I won't know what my final grade is for another month but i know i have passed so i WILL be going to Gsa...im so excited. The sun is shining down on me~